Art Journal Coaching Kits
Create the Art Journal You've Always Wanted!
Have you ever had an impulse to be creative, to make something beautiful, to just dig into your craft stash and see what you could come up with? But then you realise that you don't actually know what you want to make, you need some inspiration and ideas – you need some content. That's where these Art Journal Coaching Kits some in!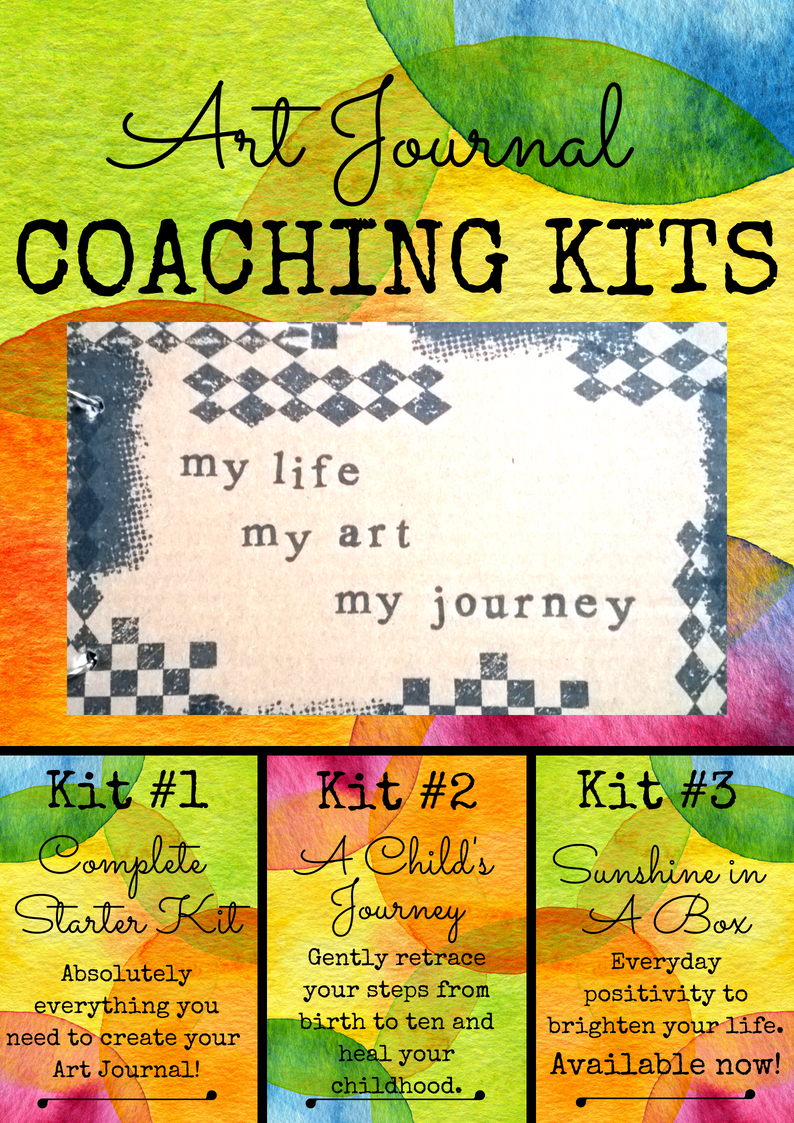 Click below for more info:
Complete Starter Kit My Inner Child's Journey Sunshine in a Box
These kits also make great gifts!!
FLEXIBLE & PERSONAL & MEANINGFUL
These kits will enable you to create a flexible, personalised Art Journal - full of meaningful content with fun, grungy designs.
MODULAR WITH GREAT TOPICS TO CHOOSE
These Coaching Art Journals are modular – so you can get just the topics you want, as and when you want them. You choose the themes and issues you want to work on! All of them have great content that will help you along your personal and creative journey.
Complete Starter Kit My Inner Child's Journey Sunshine in a Box
INFO & ACTIVITY SHEETS & INSTRUCTIONS
You also get useful information and engaging coaching activity sheets on the topic of each kit. Completing these will lead to increased self-knowledge and well-being - and will give you lots of ideas for your Art Journal pages.
AFFIRMATIONS & QUOTES >> MANTRAS & KEY WORDS
Also included are lots of affirmations and quotes which you can use as the basis for pages - and to create your own mantras and key words. You can personalise your Art Journal as much as you like. There are lots of suggestions in Kit #1!
BEGIN AT THE BEGINNING
You begin with the Starter Kit #1. This is the basis of your Journal and contains the covers, binding rings, alphabet stamps, and acrylic blocks that you will use time and again with all the other kits. Lots of pre-punched pages in A5 and A6 sizes are included too, in white, black, and kraft card.
EVERYTHING YOU NEED IN EVERY BOX
After that, everything you need is included in each kit box so that when it arrives at your door you are ready to start right away! Topic-specific stamps, inks, stencils, embellishments, and lots of extra pre-punched pages are included - as well as the info, coaching activities, and instructions.
MIX & MATCH & DO YOUR OWN THING
The stamps, inks, and stencils can also then be used in conjunction with any other kits you already have, so as you build up your collection you will come up with more ways to use everything - making your Art Journal truly your own.
Click below for more info & to shop now!
Complete Starter Kit My Inner Child's Journey Sunshine in a Box